Agricultural Climate Solutions

Agricultural Climate Solutions (ACS) is a $185 million, 10-year program that will help to develop and implement farming practices to tackle climate change. Through agricultural practices, such as shelterbelts or cover crops, farmland can store carbon and reduce greenhouse gases.
ACS aims to establish a strong Canada-wide network of regional collaborations led by farmers, and including scientists and other sectoral stakeholders. Together, they will develop and share natural solutions and farming practices to ensure farms remain competitive and that our water, air, and soil are sustainable for generations to come.
ACS is a program under the more than $4 billion Natural Climate Solutions Fund. Agriculture and Agri-Food Canada (AAFC) is partnering with Natural Resources Canada (NRCan) and Environment and Climate Change Canada (ECCC) to develop projects that invest in natural climate solutions, including NRCan's Growing Canada's Forests program and ECCC's Nature Smart Climate Solutions Fund. These solutions will contribute to meeting or exceeding Canada's greenhouse gas reduction targets and provide benefits towards the well-being of all Canadians.

Find out more about Agricultural Climate Solutions and its benefits to farmers and Canadians.

Reducing the effects of climate change through agriculture requires coordinated, national collaboration.
Application process
Funding available through ACS will be deployed in several phases starting in April 2021. The 2021 application process will be open across the country.To be eligible for the Agricultural Climate Solutions program, applicants must form a large network of partnerships within a province, including agricultural non-profits, Indigenous organizations and environmental groups. Projects in each province will be selected based on the potential to store carbon and/or reduce greenhouse gases. Each ACS project will be led by an external lead applicant working alongside various other collaborators.
In spring 2021, AAFC held national information sessions and provincial engagement workshops. Additional engagement workshops will be hosted in winter / spring 2022, and the second annual intake period will be launched in April 2022.
Information sessions are intended for farmers, agriculture and environmental non-profit organizations, Indigenous organizations, communities and groups, industry stakeholders and academic institutions. National sessions focus on sharing information about the new program, the application process and the living laboratories innovation model. Additional provincial sessions provide an opportunity to develop the collaboration among stakeholders required for a successful Agricultural Climate Solutions project.
Phase 1: Grant funding applications (April 1 to June 15, 2021) – AAFC is accepting proposals for grants of up to $100,000 from eligible organizations to support them in developing a network of participants, based on the living labs model, to develop and submit comprehensive project proposals for contribution funding to establish an ACS project.
Phase 2: Contribution funding applications (Fall 2021) – Applications for funding support of up to $10 million per project and, if requested, research and development support from a team of government department scientists led by AAFC, is slated to open in Fall 2021. It is expected that approved projects will start in the spring 2022. The receipt of grant funding in Phase 1 will not be a requirement to apply for Phase 2 contribution funding and AAFC research and development support.
For more information on participating, visit Who is eligible and How to apply.
Related links
Feature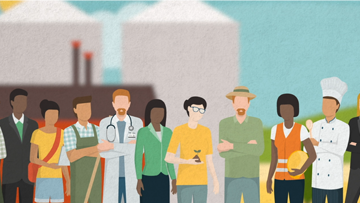 A strong nation-wide network that will harness the power of nature to store carbon, reduce greenhouse gases and deliver the right solutions to farms to combat climate change.
Contributors
Contact us
Please contact us by email at: aafc.acs-sac.aac@canada.ca
Report a problem on this page
Date modified: