Farm Income Forecast results for 2020 and 2021
Agriculture and Agri-Food Canada's Farm Income Forecast is a key tool for monitoring income in the farm sector, and understanding the short-term outlook for primary agriculture.
The sector is forecast to have seen strong financial performance in 2020, which is expected to continue into 2021. With market demand for agricultural commodities remaining strong, growth is expected in Net Cash Income, farm-level Net Operating Income, as well as net worth.
Positive performance in the face of uncertainty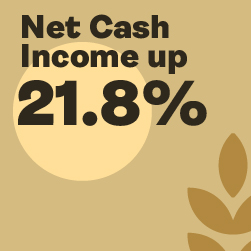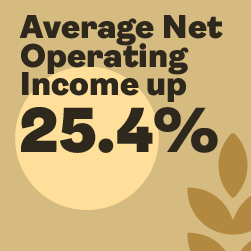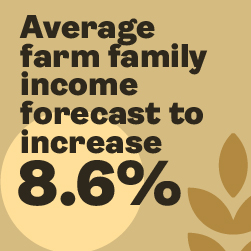 Net Cash Income is forecast to have grown significantly in 2020 – from $13.5 billion in 2019 to a new record of $16.5 billion, amounting to a 21.8% increase. Large increases in receipts are projected to have outpaced increases in expenses.
Strong returns in the grain and oilseed sectors outweighed weaker performance in the red meat sector (due to challenges at processing plants) as well as the horticulture sector (due to demand and labour challenges).
Average Net Operating Income per farm is also forecast to have risen significantly in 2020, amounting to approximately $95,000 in 2020 – up 25.4% from just under $76,000 in 2019 and 15.9% higher than the 5-year average.
For 2020, average farm family income is forecast to have increased 8.6% to just over $194,000, driven by increases in Net Operating Income from farming. The average net worth increased by 4.1%, to $3.4 million per farm.
In 2021, Net Cash Income is forecast to grow 6.8% to $17.6 billion as prices are expected to improve as global markets recover from the effects of COVID-19.
Outlook
Net Cash Income is forecast to rise in 2020 to a new record, and to see further growth in 2021. Balance sheets overall are expected to remain strong as well.
As global markets recover from the effects of COVID-19, prices for Canadian agricultural commodities are expected to improve in 2021, however COVID-19 is still a significant risk for markets going forward.
While the agriculture sector on the balance had a good year, some sectors did better than others and growth was uneven. The grain sector had a very good year with record crop production, strong prices, and minimal transportation issues. However, some other commodities, such as red meat and horticulture, saw more challenges from COVID-19 impacts.
For more detailed information, please contact aafc.info.aac@canada.ca
Report a problem on this page
Date modified: